1. International Psytech Art Exhibition.
The representative works of art from France, Germany, USA, and Japan are to beexhibited. They are the new trend developed to the kinetic and light art using the installation of mass media such as: Laser Beam, Ultra Violet Light, Strobo Light, Electronics; furthermore, TV, VTR, etc. are to be displayed organically.
Among their works, there are the masterpieces from abroad included and this is the first time for them to be exhibited openly to the public in Japan.
2. Three-dimensional display of SONY Building.
Radiant lights of more than 100 Strobo flashing on and off onn the outer wall of the SONY Building, the exclusive display in the SONY Square, the magical event of the elevator up to the 8th floor, etc., all of these makes the fabulous atmosphere of "ELECTROMAGICA 69",
3. Invitation of the artists from abroad.
Nicolas Schoffer from France, the world famous sculptor to combine cybernetics and art, and Stephan von Huene from USA, who creates stange sound sculpture, are arriving in Japan.
4. Symposium.
The symposium will be held at Sogetsu Hall in Akasaka on April 30,(Wed)1969 at 6:30PM with the foreign artists in commemoration of "ELECTROMAGICA 69".
JEAA, SONY ENTERPRIZE CO.,LTD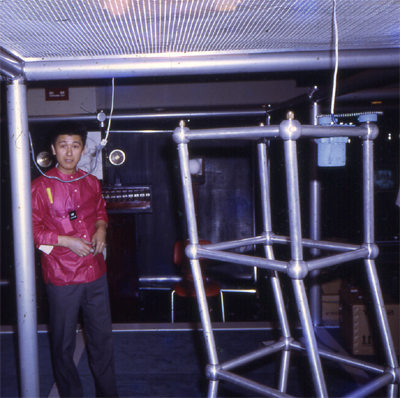 ¨ Shiro's 3-D Mechanism Series
¨ Parallel Axes Type #1
¨ Imitations
Bibliography
1969.04 "Bijyutu Techou" p29 Monthly
1969.05 "Asahi Guraph" Weekly
1969.00 "Syuukann Genndai" Weekly
1969.06 "Dalry Industrial News" Daily
1969.07 "Geijyutu Seikatu" Monthly
1996.12 "Bijyutu Techou" Exhibition catalog
- Invited artists -
Nicholas Schoffer
Born 1912 in Kalocsa, Hungary, Resides in Paris.
"Chrons 8" 1968
Height 2 meters, width 60cm, "Reflector sculpture" by steel and motor, 6 flood light projectors, prism covering the screen(a triangle of 4 meters, depth 3 meters) and kaleidoscope of colored ilght projector.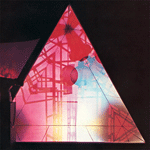 Stephan von Huene
Born in LosAngeles, California, in 1932; resides in the city.
"Rosebud-Annunciator" 1968
190.5x193.4x50.8cm. Wooden case, various type musical instruments, air bag.

Martial Raysse
Born in Nice in 1936 and resides in both NewYork and LosAngeles.
"America, America" 1964
Metal plate, neon 2.4x1.8x0.8m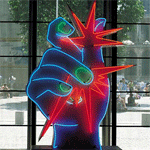 Lars Fredrikson
Resides in Antibus, France.
"Psycho Pule-Generator" 1969
TV set, 0.5m high.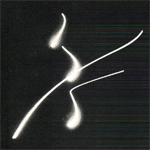 Heinz Mack
Born in Hessen, Germany, in 1931. Resides in Huppertzhof near Dusseldorf.
180x180x30cm, Plexiglass, electric bulbs, wood, alminum.

- Japanese artist -
Takamichi Ito
Born 1939 in Hokkaido; resides in Tokyo.
"Flickering Line" 1969
Brass wire 0.8mm, soldered silver, fluorescent paint, black light strobo 4.2x2x2m
Takayasu Ito
Born in Akashi city in 1934; resides in Kamakura.
"Transparent Spheres" 1969
Steel, moror, black light, fluorescent paint, automatic light adjustor,rotator, 2x4x2m
Banri Endo
Born in Tokyo in 1934; resides in Tokyo.
"Panel Scope" 1969
TV camera,VU finder, stainless steel, wood, plastic, strawjar, amp, etc. 189x189x180cm
Joji Kikunami
Boen in Kobe in 1923, and resides in Osaka.
"3-4 of 69" 1969
4.52x4.5x5cm in size; aluminum, electrolitic abrasive meterian, stainless steel, acryl.
Masaharu Sakamoto
Born in Tokyo in 1938; resides in Tokyo.
"Time Shearing TV" 1969
8 Sony 120STV, 1 main TV, 7 monitor TV, 14 video taperecorders.
Computor Technique Group
The group is Japan's only group which jhas cintinued to study art and computor which was born in Japan in 1967.
Thermo Field Plotting field" 1968
Stainless steel plate, thermo paint, heater, etc. 2x2x2m 500kg
Shiro Takahashi
Born 1943 in Tokyo; resides in Tokyo.
"Solid Mechanism No.12" 1969
Aluminum alloy, 40x40x170cm
Senkichiro Nasaka
Born in Osaka 1923 and resides in Tokyo
"Servo Line" 1969
Stainless steel, canvas, DC motor, control equipment, coin machine control, 0.5x0.5x1.5-2.5m
Katsuhiro Yamaguchi
Born in Tokyo in 1828; resides in Tokyo
"Image Modulator" 1969
0.6m high colour TV and glass
Mimoru Yoshida
Born in Osaka in 1936; resides in Kyoto
"EP3" 1969
Plastic, VTR, transistor, tape, motor, black light.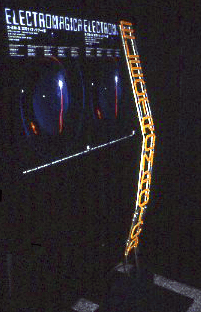 @Introduction guide